5 months driving experience within the last 24 months

of employment driving a truck tractor semi-trailer or the equivalent

24 months

driving experience

 within the last 48 months

 driving a truck tractor semi-trailer or the equivalent

.
Driving experience must be with any power unit/towed unit(s) combination over 26001 lbs. Gross Vehicle Weight Rating (GVWR) and/or any single unit truck over 26001 lbs. GVWR.  Military property transport vehicles of similar GVWR are included.
Graduate of a CDL Driver Training School within 12 month of application. School must be on the Coastal approved list.
Class A CDL with Tanker (N) and Hazardous Materials (H) Endorsements or X Endorsements required.
Minimum Age: 23
Compensation:
Industry competitive pay with driver incentive performance bonuses.
Benefits Packages: 
Health  
Dental 
Vision 
Disability  
Paid Vacation and Holidays 
Family College Tuition Assistance 
401k 
Bonus Programs: 
Safety/Performance Bonus 
Driver Retention Bonus 
Operational Excellence: 
Paid Training Programs 
Paid Certification Programs 
Modern Equipment 
Regular Schedule 
Limited Long Runs 
Questions?
Email us.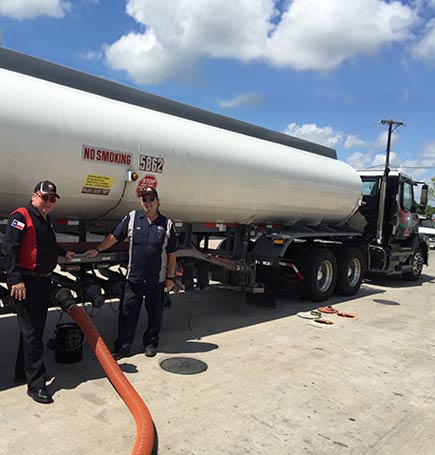 Our Pledge to You...
We will provide you with a fleet that meets rigorous safety standards.
We will provide you a professional management team that will listen and respond to drivers' issues.
We will provide an on-going state-of-the-art training program in all aspects of loading, unloading, safety and spill containment.
We will train you in the latest safe driving techniques.

Veterans
Coastal is committed to providing employment careers for military personal transitioning to civilian life, as well as members of military reserve units. You will receive outstanding training to join our driver workforce and continue to serve your community. For information on FMSCA Military Driver programs go to www.fmsca.dot.gov

Company Benefits
Health
Dental
Vision
Disability
Paid Vacation and Holidays
Family College Tuition Assistance
401k
COASTAL APPROVED TRUCK DRIVING SCHOOLS
Academy School of Careers
Carrolton & El Paso
Action Career Training of Abilene (ACT)
Also known as Howard College
Abilene, Pharr, Killeen
Advanced Career Institute (Visalia, California)
San Diego/Artesia
AIT – American Institute of Trucking
Phoenix
Alamo Colleges/The Sage Corporation
San Antonio
Amarillo College Truck Driving Academy
Amarillo
American CDL Truck Driving School of Tucson, AZ
Tucson
American Truck Training
Oklahoma City, OK
APX CDL
Desoto, KA
Artesia Training Academy
Artesia
ATDS Truck Driving School
Austin Community College
Austin
C 1 Truck Driving Training
DFW
California Truck Driving Academy
Santa Anna, CA. (Orange County)
CDL Rapido Inc.
El Paso
Center for Employment Training of El Paso (CET) El Paso
Central Tech Truck Driving School of Oklahoma
CET Education
El Centro, CA
Chattanooga State Driving School
Corpus Christi
Cultural Technical Institute of El Paso
El Paso
Del Mar College
Corpus Christi
El Paso Truck Driving School
El Paso
Gallup CDL Training
Gallup
Good Careers Academy
San Antonio
Grayson County College/ Truck Driving School
Amarillo
HDS Truck Driving Institute
Houston Community College (PTDI)

Houston
International College of Truck Driving
Los Angeles, CA., Colton, CA
International Truck Driving School
El Paso/DFW/Albuquerque
International Schools Professional Truck Driving
Austin, Brownwood, Dallas, El Paso, Texarkana , Las Cruces, Lubbock, Marshall, McAllen, Odessa, Rio Grande City TX, Weslaco
Iowa Central Community College of Fort Dodge, Iowa
Lamar Institute of Technology (in Beaumont)
Houston/Port Arthur
Laredo Collage (Laredo Community Collage)
Laredo, TX
Lone Star College System
Houston
Master Truck School
Chula Vista, CA
Mesilla Valley Training Institute
El Paso
Midwest Technical Institute
Springfield, IL & Springfield, MO
Phoenix Truck Driving Institute (Owned by HDS)
Phoenix
Pima Community College
Tucson
Pine Bluff Truck Driving School
Pine Bluff, Arkansas
PTDI – Professional Truck Driving Institute (CNM – Community College for New Mexico)
Albuquerque
RoadMaster Drivers School
Tampa, FL; Orlando, FL; Jacksonville, FL; Columbus, OH; San Antonio, TX; Salt Lake City, UT; W. Memphis, AR; Indianapolis, IN; Dunn, NC; Tulsa, OK; Fontana, CA; Chattanooga, TN
Rocky Mountain Truck Driving School
Albuquerque
San Jacinto College
South Plains College
Amarillo
Southern Careers Institute
San Antonio
Southwest Truck Driving School
All Locations (MUST HAVE COMPLETED 160 HOUR COURSE)
Troops into Transportation
Fort Hood, TX
United Truck Driving School of San Diego
San Diego
Victoria College (PTDI)
Victoria
Western Technical College
El Paso
Western Truck School
West Sacramento, Turlock, Bakersfield, San Diego
Yuma Truck Driving School (Owned by HDS)
ALL EMPLOYMENT VERIFICATION
Company policy requires a signed release/authorization form for us to complete any Employment Verification Forms. You may either email your request to: VOE@CoastalTransport.com or fax a request to 210-662-8712.
Please include both the Employment Verification Form and signed release/authorization form. Allow five business days for completion – no phone calls please.
The Coastal safety record is one of the best among all tank truck carriers. That's why we consider ourselves a "truck of a different color."
No company hauls more petroleum products with a higher degree of customer satisfaction and safety than Coastal Transport.
We provide an on-going state-of-the-art training program in all aspects of loading, unloading, safety and spill containment.
We have made a science out of the safe, responsible delivery of petroleum products in some mighty tricky locations.
We have been owned and operated by the same family for over 60 years of our 70 plus year history.